Featured image 'Tatiana and Murray' by And a Day Photography
Back in 2015 when we opened the farm up as a wedding venue, one of the very first brides to come and look around, spotted our shed and asked if she could have her reception in it. At the time we were using it as a garage, storage space and workshop. But once Tara shared her vision; festoon lighting, corrugated iron bar, claw foot bath full of ice, and happy, dancing guests all spilling out onto the lawn and overlooking the dam. We took her idea and ran with it. Within weeks we'd clad the interior with recycled corrugated iron. Fitted recycled timber windows, an antique ornamental fireplace and commissioned tables, a bar and hung festoon and pendant lighting. Our humble garage was rechristened 'The Party Shed' and very quickly it became Willow Farm's epicentre of fun. It has witnessed wet weather wedding ceremonies, concerts, fundraisers, workshops and some serious dance floor shenanigans at many a wedding reception. And wedding after wedding we are amazed at how beautiful it can look when our clever couples put their individual style to it.
Photos by (L to R) Katie Rivers Photography, Phillipa Enid, Red Berry Photography, Red Berry Photography
As a sit down venue, the Party Shed comfortably fits 100. If you want to have a dance floor and bar undercover in the shed as well, 80 guests is perfect.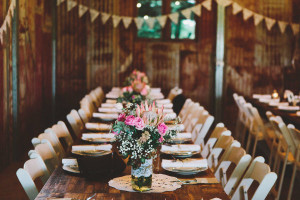 Above photos (L to R) – John Benavente and And A Day Photography
The Party Shed is also a great wet weather option if you do get rain on your wedding day.  Marianna and Luke had planned their ceremony in the garden under the jacaranda tree, but made a last minute move into the shed. We thought their ceremony looked awesome.
Marianna and Luke by Dan Cartwright Photography
The undercover area in the shed is 11.7m wide by 8.6m deep. The ceiling is 3.5m high at its peak and 2.7m at its lowest point. It has 3 phase power, and 3 pendant lights, and simple festoon lighting hanging from its rafters.
The gorgeous Tara and Ollie (who helped dream up the party shed) by Red Berry Photography.